Search engine optimization is the process of formulating a site and its content highly appropriate for both search engines and searchers.
Success Engagement in one go with SEO.
Want to get top rank in the Google search

Chalo…" yah rasta hai"
It makes your business like a shark in the ocean of digital marketing.  There are many fishes in sea but a fish having different characteristics remains in one's browsing list. SEO stands for search engine optimization.
Engine is main part of a vehicle stable performance and maintaining marketing is the key factor to drive your firm in a smooth manner.
Both on-page  and off-page ranking factors to accomplish high search engine rankings, for targeted search terms and it is all about optimizing a website for search engines.
The fundamental ideal of Search Engine Optimization is to enhance the volume and quality of traffic to a website from a search engine.
To recognize the genuine meaning of SEO, let us shatter that definition into and glance.
At the parts: initially noticing the quality of traffic you can entertain all the visitors in the world and you expect to attract visitors who honestly want to buy the products that you offer.
Formerly you have to target the right people by connecting through your Search Engine Results Pages (SERP)
More traffic is satisfactory by which we can catch up with the privileged users so organic results ads are very watchful which makes up a crucial portion of many SERPs.
It is any traffic that you don't have to pay for because organic traffic will be the best way to get outstanding in the business.
The Artist of ranking in the search engine
A tremendous point of search engine optimization is making it easy for both users and search engine robots to understand.
Although search engines have become increasingly sophisticated and in many ways but they still can't see and understand a web page in the same way a human does.
SEO helps the engineers figure out what each page is about, and how it may be useful for users.
Topic of On-page SEO & Off-page SEO
On-page SEO
Meta tags
Keyword density
Robots.txt
Site map
Canonical URLs
Internal link anchor text
A title tag for links
Site performance
SILOS
Off-page SEO
RSS feeds
Directory submission
Social bookmarking
Article marketing
Social media
Press Releases
Blog commenting
Forum posting
Info graphic sharing
Meta tags:-
Meta tags provide knowledge about a webpage in the HTML document. So this information is called "metadata" and while it is not exhibited on the page, but it can be examined by search engines and web crawlers.
Keyword density:-
Keyword density is the exact number of times a keyword comes off in a piece of content.
Robots.txt:-
A robots.txt file notifies search engine crawlers with pages or files the crawler can or cannot appeal from your site.
Site map:-
It is the layout of your website that comforts search engines to find and crawl through the index of your entire website's content.
Canonical URLs:-
A canonical URL is the best interpretation of a web page.
Internal link anchor text:-
Anchor Text is the apparent clickable text in a hyperlink. In modern browsers because it is indeed visible in blue color and underlined for Cathy appearance.
A title tag for links:-
The title tag of a web page is represented to be an accurate and concise explanation of a sheet's content. Being sure of on who you ask, "rich site summary".
Site performance:-
The parameter on-page to inspect SEO activity of the site.
SILOS:-
Smart SEO strategies like semantics and silos guide you step-by-step on how to implement silo structure.
RSS feeds:-
The RSS stands for "straightforward syndication".
Directory submission:-
A Directory submission is the off-page activity. And it is the basic one
Social bookmarking:-
It is a browser-based instrument and an easy way of tagging a website page and visit it later for future references.
Article marketing:-
Is an aspect of marketing in which articles and are strategically placed on the internet for the objective of promoting a specific website.
Social media:-
Social media is the platform where it can boost your website's organic traffic through search engines
Press Releases:-
Press releases are significant for SEO as they provoke both quality content and additional back-links for a website
Blog commenting:-
It is a favorable way that gives rise to referral traffic to your blog and also easy way to improve your blog content.
Forum posting:-
Forum posting in SEO comprises of websites having a part in online meeting forums but to acknowledge the old and new questions to distract traffic.
Info graphic sharing:-
It is one of the off-page techniques and it is meant for a collection of imagery, charts, and minimal text that delivers an easy-to-understand overview of a topic.
Using SEO how to target people
Your target audiences are the people who excite to your website because your targeted audiences are the people who are searching on Google to discover a business precisely like yours.
 They are your forthcoming customers or clients. If you are accomplishing targeting people without using SEO it is like sailing on the water without a boat.
SEO splashes a vital position in targeting more audience susceptible together. The people will be gratified and make use of your content.
Targeting people makes it easy. First create content and asking the question more in particular concept and make.
The answer with strong keywords your target audience is the user who is searching on Google to find a business just like yours.
Who are all your targeting audience?
Target audience is a group of people who are called your ideal customers.
How SEO performs Keyword Research?
Make keyword targets with top-ranking websites because If it is unlikely, you can compete, consider targeting less competitive keywords and fig out the pages on your website that is making  ranking as well and reinforce. Their quality with on-page optimization.
Conversion-optimized design, and strategic internal linking re-optimize that content for different keyword targets when for pages that aren't ranking well because if the web page is getting no traffic or under-performing and consider making strategic revisions or deleting it altogether.
Keyword research is the procedure of comprehending the terminology that your target customers use when they are searching for your products, services, and content.
Then it involves analyzing, comparing, and prioritizing the best keyword alternatives for your website. Keyword research is the only path to estimate out what people are categorizing into search engines.
You need to know this to prevent creating content about things that nobody is searching for so keyword research begins with thinking about how possibly customers might exist searching for your business or website. You can then employ keyword research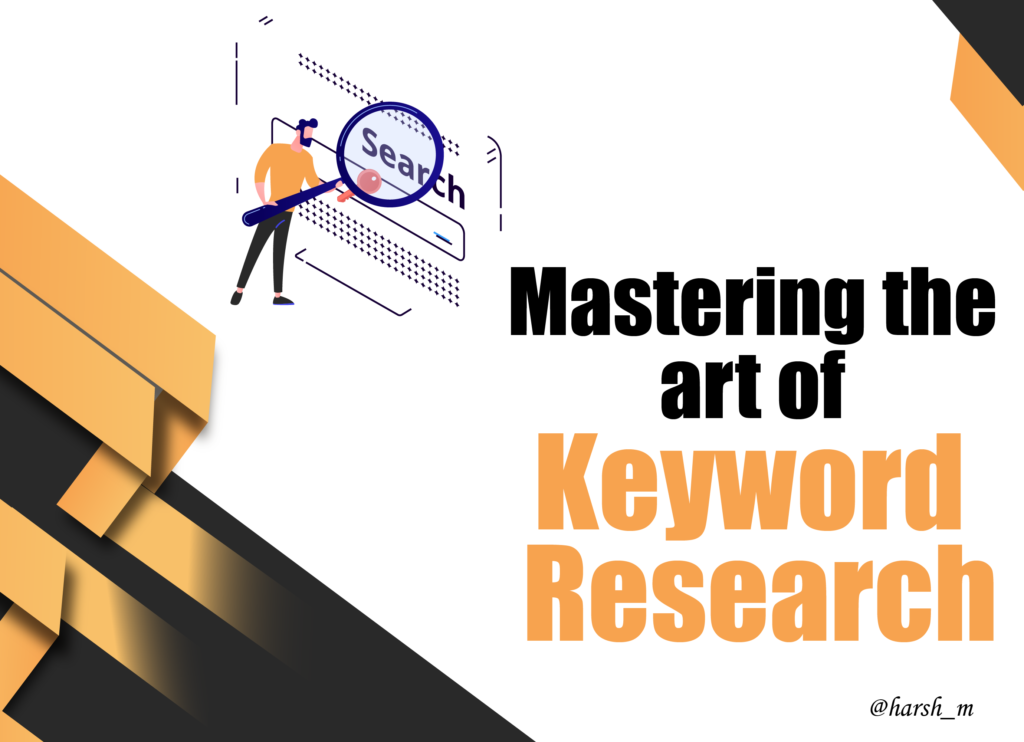 methods to broaden those ideas and discover even additional keywords. It's a natural process, but two things need to be done.
You need to have good knowledge of your company to recognize how keyword research tools work and how to bring the vast release of them.
There are many actionable strategies to expand your awareness in both those areas and excavate potentially successful keywords for your website in the process.
Are you watchful to double the search traffic?
 Understanding SEO is crucial to significantly increase your traffic and brand awareness. Right now, everyone is looking for beautiful content.
And want to reach thousands is people with more and more SEO strategies to increase the traffic that becomes you an SEO expert.
There are many efficient strategies that SEO can catch up with much traffic Precocious SEO
Tip is that, Discover what your users specifically want?
When you overhear feedback from your customer, then it definitely leads the path to what content you have to create to fascinate the users.
Creating landing pages is also incredibly prominent to this SEO reach. Use Advanced SEO Internal Deep Linking which is called back links. And this comprises internal links and external links.
You can give links of the same your website topics which will be showing your website again that's how you can increase more traffic to your website.
Competitor research is a clever move. Something as reasonable as enrolling for your competitor's newsletter can disclose all their unbroken email marketing strategy to you.
Limited research doesn't amount to anything but your duration and can generate some great new strategies for you to try. This is how SEO reach a surplus audience.